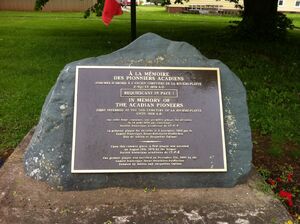 Information
Edit
Tiré du livre « 150, Miscouche, IPE, 1817-1967 » d'Antoinette DesRoches, 1967, p. 15. Taken from the book « 150, Miscouche, IPE, 1817-1967 » by Antoinette DesRoches, 1967, p. 15.
In the year 1859, the possessor of the land upon which was the old cemetery close by le vieux magasin being desirous of cultivating the lot occupied by the graves of the Acadians, gave notice to the parishioners of Miscouche to remove their dead to their new cemetery. This was done, the bodies being exhumed and placed in two gigantic coffins, were conveyed to Miscouche in a solemn procession formed by the priest, choristers, and the entire parish. After a Requiem service in the church of St. John the Baptist, the dead were reverently laid to rest in the quiet graveyard of the mission.
It is said that the bodies when exhumed were in a state of singular preservation. One old woman was moved to tears at the sight of her grand-father who had been buried by the Abbé de Calonne and whom she recognized by his calotte rouge or red skull cap. Another grave was found to contain the body of a young man dressed in a blue coat with large bright buttons; he was lying as if asleep. Those who stood near the grave remembered having heard their parents tell how many years ago, a young man from Township Sixteen who was about to be married went on foot to Malpec to make some purchases. He was overtaken by a cruel snowstorm and was found frozen to death on the ice near the mouth of the River Platte; the Acadians buried him just where they found him.
Community content is available under
CC-BY-SA
unless otherwise noted.