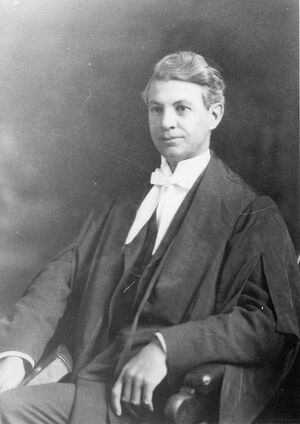 Information
Edit
Fils du sénateur Joseph-Octave Arsenault d'Abram-Village, Île-du-Prince-Édouard, il fut nommé premier ministre de l'Î.-P.-É. en 1917, le premier Acadien au Canada à devenir premier ministre d'une province. Il fut nommé juge de la Cour suprême de l'Île en 1922. Alors qu'il pratique le droit à Summerside, il a été, en 1906, le premier Acadien élu au conseil municipal de cette ville.
Aubin-Edmond Arsenault (1870-1968). Son of senator Joseph-Octave Arsenault of Abram-Village, he was elected premier of Prince Edward Island in 1917, the first Acadian in Canada to be named leader of a province. He was appointed judge to the Island's Supreme Court in 1922. While practicing law in Summerside in 1906, he became the first Acadian elected to the town council. Centre de recherche acadien de l'Île-du-Prince-Édouard. Fonds Centre de recherche acadien de l'Î.-P.-É., 1.11.
Community content is available under
CC-BY-SA
unless otherwise noted.