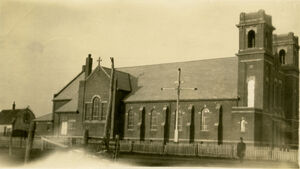 Information
Edit
La quatrième église Saint-Philippe et Saint-Jacques, Baie-Egmont. Elle fut construite en briques en 1923 et revêtue de crépi pour protéger la brique qui se brisait en 1944. Les plans ont été conçus par les architectes C.B. Chappell et Hunter de Charlottetown. La décoration intérieure a été faite en 1954 par l'artiste acadien néo-brunswickois, Édouard Gautreau. Cette église fut détruite en 2010 suite à des problèmes sérieux avec la structure.
The fourth St. Philippe et St. Jacques (otherwise known as St. Philip and St. James) church, Baie-Egmont. It was constructed in 1923 and covered with plaster in 1944 when the brick was starting to show signs of wear. The plans were drawn up by architects C.B. Chappell and Hunter of Charlottetown. The interior décor was done in 1954 by Acadian artist Édouard Gautreau from New Brunswick. This church was demolished in 2010 after serious problems were identified with the structure.
Community content is available under
CC-BY-SA
unless otherwise noted.